This year, Rawlplug UK, under Pietro Grandesso leadership, really stamped its mark on the ScrewFix LIVE exhibition with one of the best stand presentations of the entire show. Find out how many visiting customers won in the Tap-It competition, why it was all green, and what else made us stand out.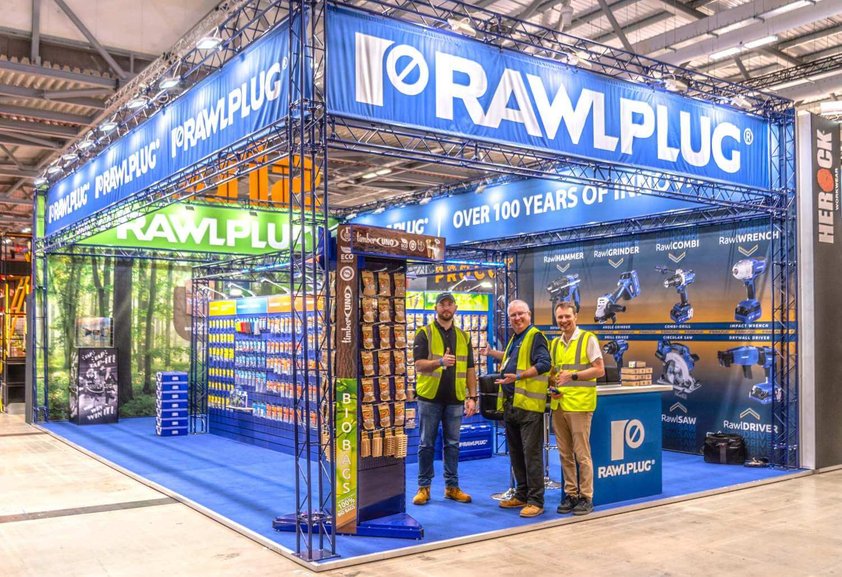 Screwfix LIVE is among the UK's largest trade exhibitions showcasing the very best finishing solutions.
Three days, 170 brands, 50,000 products at a 10% discount – all of that and more awaited visitors to the 10th ScrewFix show edition in Farnborough. For our Rawlplug UK team, this was the most important event of 2023, so it's no wonder they really approached it with genuine panache.
Rawlplug – global leader of eco-friendly innovation
Our environmentally friendly product line became the focus of our display and naturally attracted the most attention. Rawlplug has outdistanced the competition and is now the leading provider of solutions that cater to the needs of the contemporary world. Our 100% biodegradable packaging (Bio Bags), 100% recyclable pouches, and the innovative Timber Uno fixings (made of renewable materials) made a great impression.
Many visitors were drawn to our stand by the environmental, eco-friendly and renewable packaging ranges that we heavily presented and focused upon. You could tell they were genuinely interested in this aspect of our presentation, which makes us very proud to showcase that Rawlplug are in line with global trends. It was very evident that the visitors to our stand were impressed that Rawlplug have embraced the importance of being a leading innovator of eco-friendly solutions.
Barry Jackson
Head of Division, National Accounts, Trade & DIY Rawlplug UK
50 Tap-It awards
Demonstrating Tap-It fixings on the Rawlplug UK stand at Screwfix LIVE has now become a tradition that visitors to the exhibition look forward too.. And this time, again, our display point was besieged when it came to this contest. Over the three days of the show, the Rawlplug UK team handed out prizes every 30 minutes. As many as 50 visitors won the Tap-It competition!
Check out the Tap-it competition!
We could show the innovative fixing solutions for plasterboard applications in action. Visitors were not only eager to win, but also delighted by the simplicity of the Tap-It hammer-in fixings. In return for their participation in the contest, we presented them with both a Rawlplug goodie bag and, for the lucky winners, a drill driver. This allowed some visitors to our stand to win professional Rawlplug power tool equipment! There were literally tens of visitors lining up on to the stand to take part in the Tap-It demonstration....it was great to see.
Barry Jackson
Head of Division, National Accounts, Trade & DIY Rawlplug UK
Rawlplug's exhibition stand not to be missed
One simply couldn't overlook our spot in the enormous arena of the Farnborough International Exhibition and Conference Centre. Rawlplug's exhibition stand clearly stood out for its size and open concept, and was actually visible from every corner of the hall. The green colour pointed at our innovative and environmentally friendly solutions.
Watch this short video relation to see Rawlplug in action:
Our meticulously designed stand not only perfectly highlighted Rawlplug's products, but also showcased our POS ability and how the journey of selecting the right product for our customers can be made a simple and enjoyable process. It was visual appeal and functionality at its highest. Once again, we clearly presented how easy it can be to identify the products you need without being confused or weighed down with technical jargon and data.
Barry Jackson
Head of Division, National Accounts, Trade & DIY Rawlplug UK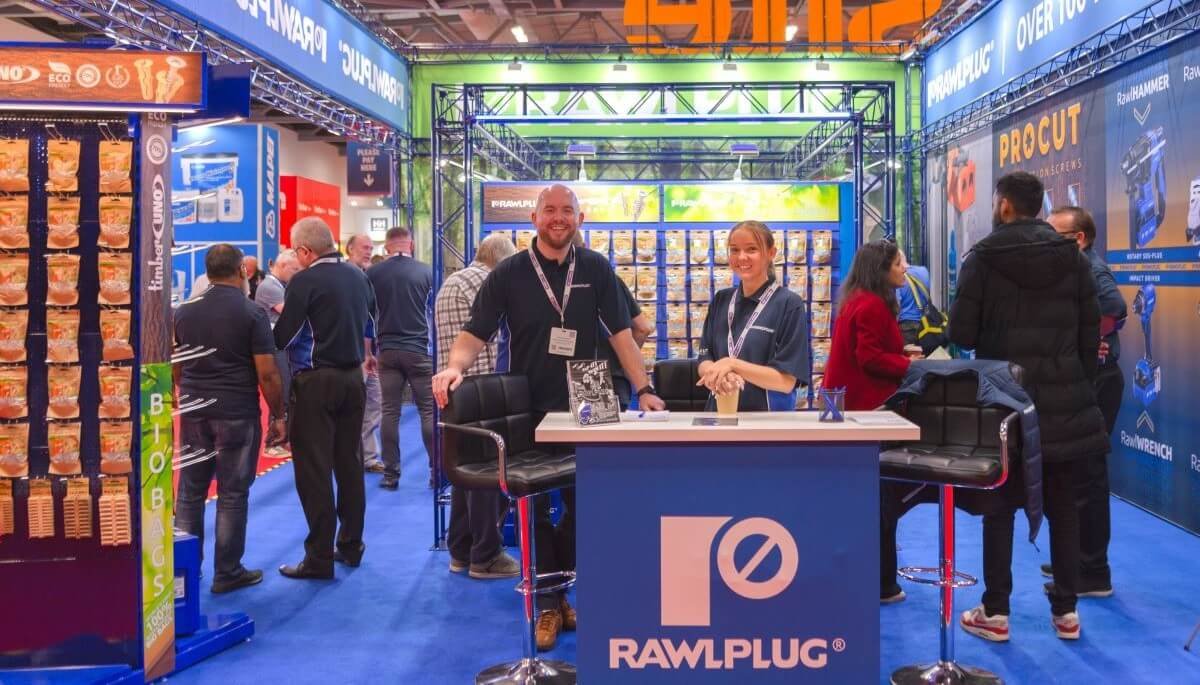 No wonder we witnessed massive interest in the presentation designed by the Rawlplug UK team at ScrewFix LIVE 2023. All the visitors could scrutinise our products in detail and were eager to do so. It was indeed a big success and we came back proud. See you next year!
I'd like to express how proud and grateful I am for all of the support that, not only my entire team in the Nationals Division have given me in making Screwfix LIVE such a succes, but also my wonderful colleagues at Glasgow HQ, the technical team, and especially Rebecca, Kelvin and Tarun. Thank you all, my dearest Rawlplugians!
Barry Jackson
Head of Division, National Accounts, Trade & DIY Rawlplug UK