As the construction season has reached its full swing, we have expanded our range of solutions dedicated to facade thermal insulation materials with the R-TFIX-8M fixings featuring metal hammer-in pins in new length variants: 95 mm and 115 mm.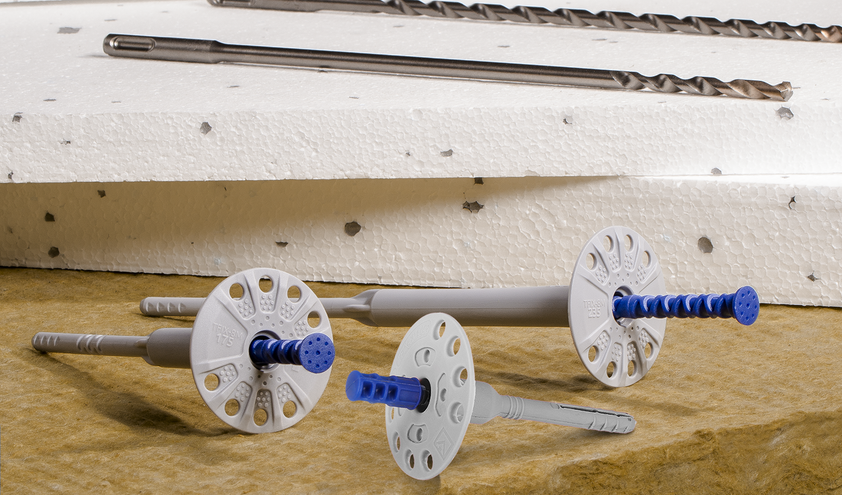 R-TFIX-8M are universal facade fixings with metal hammer-in pins, characterised by point thermal transmittance reduced to 0.001 W/K for the size range of 135–295 mm and to 0.002 W/K for the size range of 95–115 mm. Previously available in lengths ranging from 135 to 295 mm, this portfolio has now been expanded with two new length variants: 95 and 115 mm.
The new sizes complete the R-TFIX-8M range to enable mechanical fixing of thermal insulation panels with smaller thicknesses.
New line items:
R-TFIX-8M-095
R-TFIX-8M-115

Main benefits we owe to the R-TFIX-8M facade fixings
The wide size range of the R-TFIX-8M hammer-in facade fixings has been conceived to enable easy and fast installation of facade thermal insulation materials on substrates of all categories: concrete, ceramic brick, silicate brick, as well as lightweight concrete and autoclaved aerated concrete hollow block;
Any other advantages?
Unique design of the anchoring zone enabling the fixing to transfer high loads and making it possible to reduce the number of anchors required per m2.
Highest load bearing capacity guaranteed for an anchoring zone reduced to 25 mm.
High plate stiffness (1.0 kN/mm) ensuring stability of the thermal insulation system by counteracting vibrations caused by the wind force.
Pre-assembled sleeve and pin for improved comfort, speed, and safety of work.
All size variants of the R-TFIX-8M facade fixings are ETA 17/0592 certified.
Installing thermal insulation panels using the R-TFIX-8M
When installing thermal insulation panels using Rawlplug's facade fixings, you need to follow a few simple steps. Start by cleaning the hole you have previously drilled to the appropriate depth, and then set the fixing in the hole so that its plate presses against the surface of the thermal insulation material. The next step is to drive the pin down the sleeve until the fixing comes flush with the surface.
The solution recommended for installing soft insulation materials and mineral wool is the R-TFX-8M with the additional R-KWL retaining plate – 90, 110 or 140 mm in diameter.
HERE you can find detailed installation instructions for the R-TFIX-8M hammer-in facade fixing.
If you are still not sure which facade insulation fixing to choose, you are welcome to navigate HERE to watch a dedicated Rawlplug Academy episode.