He has successfully run his company during a period - think of the last few years - that can hardly be considered easy. We talk with Radoslaw Koelner about where he looks for inspiration, how he chooses technologies worthy of attention, and whether it's worth making short-term plans.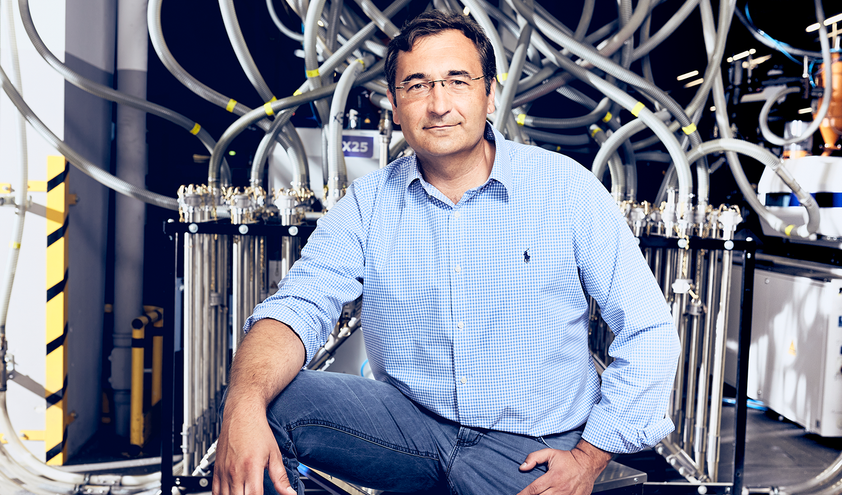 Act I: THE PAST | Act II: THE PRESENT | Act III: THE FUTURE
The pandemic, the war in Ukraine, the global crisis on the raw materials market... Faced with all these difficulties, Rawlplug is holding strong and breaking records year after year. Can you let us in on the recipe for success?
There is no ready-made recipe. Instead, there are some moments that speed up education. In our case, it was for example the flood of 1997, or the turbulences related to consolidation following the acquisition of Rawlplug. Either you learn quickly and win, or you disappear. In tough times, you have to summon up all your skills and get rid of your private inclinations – only then will you be able to get through the crisis unscathed. There is one condition, however: you need to be there with your people.
I'm not troubled by the concerns most managers have. Their role is usually written out for a year, for three years, sometimes five – they run their businesses in rather narrow time horizons. Mine is broader, covering 20–30 years. What this means in practice is that I am not exploiting the company as much as I theoretically could. As the owner, I simply decided that a long-term approach would serve my business much better. It also involves investments that yield a return after seven, ten or twelve years, rather than after one or three years.
It is also worth gathering inspirations. I keep a close eye on global economic trends, on emerging businesses and the projects they are implementing. I'm interested in technology, so I automatically find entities that are very strong in certain industries. This is how I learn, and after that I use the knowledge gained. Inspiration can be picked up, copied, adapted to one's own style, even if it comes from sectors completely different from ours.
Let's talk about Rawlplug's new logistics centre under construction in Kożuchów.
Kożuchów is a very important element of the implementation of the company's strategy, which is ambitious, but realistic. Without Kożuchów, it would be impossible to increase our efficiency in terms of supplies to the key markets where we operate. It is also impossible to turn the Wrocław plant into a cutting-edge technological facility if we continue to haul pallets of often simple products here.
In Kożuchów, there is space, there is suitably modern infrastructure, and also adequate capacity, which in Wrocław, after fifteen years of operation of the main warehouse, has simply run out, while we actually want to sell two or three times the current amount very soon. Building a new warehouse in a place such as Wrocław, on the other hand, we would miss the point if we want to move consistently in the direction of environmental friendliness, ESG and all that we have already managed to achieve here, for instance turning an old sewage treatment plant into a pleasant, green marina on the River Oder.
There is enough space, modern infrastructure and capacity in Kożuchów to allow us to successfully pursue our sales plans. The new centre will also be the first place where we will achieve Net Zero, or even carbon negative status. We are not only building a storage facility, but also a huge photovoltaic farm with a whole system of batteries, and we are also seriously thinking about setting up a biogas and biomethane plant there.
Energy and managing energy resources are probably among the key topics nowadays, especially faced with the global raw materials market crisis.
The amount of raw materials is sufficient, but we are experiencing a deficit, because the prices are unrealistic and distorted, and I have to say this despite my strong belief in the financial system. This results from a conscious policy of the world in which we participate. On top of that, we are not really feeling affected by this deficit yet to the extent we will in a while – we need to be prepared for it. The world has fallen into a massive debt trap, and we are facing a financial reset. Either traditional valuations will be restored and currency will become commodity-based, or the world will become even more politically unsettled.
The opportunity to get out of the loop is provided by technology. Huge drivers here include artificial intelligence, Internet of Things, and robotisation, i.e. elements of the fourth industrial revolution. It is happening right in front of our very eyes – I've recently read in a scientific periodical about the energy obtained from successful nuclear fusion, and this is merely one example. We can already talk about using depleted uranium, about lead employed as a coolant, and about obtaining energy from other elements, including from waste, which today we only store in landfills.
It is technology that comes to the rescue. We have already cannibalised nature. When I was 17, I learned to dive. The coral reefs I admired back then are no longer there. Unless we want to annihilate ourselves, we must act, and those who have food to eat and live reasonably comfortably lives are particularly obligated to do so.
That's all for today. In the next and final episode, we'll talk about what's to come, which is to say, what's to come.