A power tool defect – even a minor one – can needlessly prolong installation time or put construction work completely to a halt. Perfectly aware of this fact, we provide our customers with professional power tool servicing support.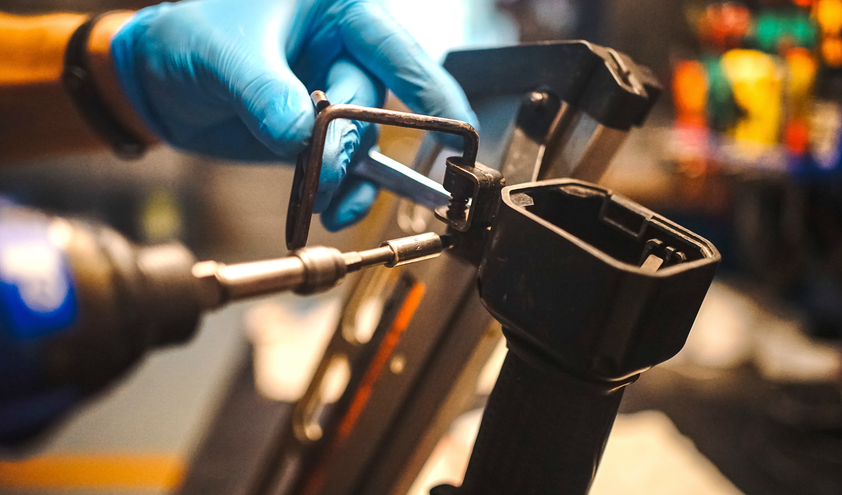 Find out how to report a machine malfunction, when it is cost-effective to repair a power tool, and why it is better to recondition than to replace batteries.
Power Tool Service stands for a comprehensive support package, but it is also an inherent component of Rawlplug's sustainability strategy. Offering our customers the opportunity to repair their machines professionally and quickly, we build long-term relationships and maximise the value of the products already delivered. What about environmental benefits? Reduced raw material consumption and amount of e-waste to dispose of.
Remember! Rawlplug's cordless and corded power tools and batteries are covered by a 36-month warranty.
Explore Rawlplug's power tool offering at https://e.rawlplug.com/pl-pl/c/produkty/elektronarzedzia.
Do you already own a Rawlplug-branded power tool? Remember to register it
In an attempt to provide our customers with professional power tool repair services, we have introduced the option of registering the machines purchased.
The power tool registration scheme provides a number of customer benefits. First of all, it is now significantly more convenient to report the need for warranty or post-warranty repair. Secondly, it enables quick access to all the necessary documents such as user manuals or assembly diagrams, making it possible to choose appropriate spare parts. And thirdly, it is an opportunity to benefit from free repair and maintenance services, such as annual cleaning of nailers
Arkadiusz Kaczorowski
Technical Support Manager
Looking for competent technical support for power tools? Rawlplug delivers tool repair services and much more
The above summary of the benefits you can draw by registering your power tools is definitely not exhaustive. There are more worth mentioning:
Rawlplug's professional power tool repair services delivered quickly and without unnecessary paperwork.

Upon registration, the user enters basic information about the power tool purchased (when, where and by whom it was purchased), which makes any potential defect reporting much quicker. It is typically enough to briefly describe the defect and specify the address where the courier is to pick up the equipment.
Possibility of applying for a replacement tool for the repair work duration.

This option is provided to those who have registered their power tool within 30 days from the purchase.

All information at one place. No matter how many power tools you register, you have quick and convenient access to all the information about them: their purchase date, warranty time limits and conditions, description of any defects and repairs performed, and previous correspondence with the Technical Support services.
Convenient access to all documents. If your power tools need to be repaired, the Customer Panel provides you with information about the progress of complaint processing, quotation for the device repair (in the case of post-warranty service), and access to all the necessary documents.
Find out how to register Rawlplug's power tools at https://e.rawlplug.com/pl-pl/blog/system-rejestracji-narzedzi-rawlplug-nowa-usluga-www.
Rawlplug's Power Tool Service. Step-by-step repair
Perfect power tool repair service should be simple, fast, and convenient. If your tool has malfunctioned, follow the instructions below:
Go to

https://toolservice.rawlplug.app/login

. If you have registered your power tool, log on or sign up to create an account on the site.

Describe the malfunction. You can also add photographs.
Submit your complaint. Our technicians will review it as soon as possible and contact you to arrange for a courier to pick up the defective equipment
Remember! Power tools in need of repair must be cleaned by the user before being sent to service. Otherwise, we may refuse to repair such a device.
We verify the repair time once the device has been delivered to us by the courier. Rawlplug's power tools are usually repaired within 24 hours.

Please note that the service of repair and maintenance of cordless as well as corded power tools, including nailers, is provided under the warranty coverage only if the user has not attempted to repair the equipment on their own. Otherwise, we can obviously provide paid post-warranty repair of power tools.

You will find all information concerning the repair services performed as well as the current complaint processing status on your Customer Profile.

Before we send back repaired equipment, you can decide if you want to use the professional cleaning option or to buy replacement parts.

Once repaired, your equipment is sent back by courier services to the address stated in the application.
Find out why the Power Tool Service is one of the elements of Rawlplug's sustainability strategy at https://e.rawlplug.com/pl-pl/blog/full-serwis-czyli-jak-wydluzamy-zycie-elektronarzedzi.
Power tool repair pricing – post-warranty service
We provide power tool repair services under warranty as well as in post-warranty period. So if you own any power tools from Rawlplug or brands included in our portfolio, you may be interested in post-warranty repair of equipment sent to us. What to do to make use of such a service?
Navigate to

https://toolservice.rawlplug.app/login

. Select the post-warranty repair option.

Fill in the form and describe the defect. Attach photographs enabling us to better assess the technical condition of your machine.

We will start by initially verifying whether it is cost-effective to repair the power tool and/or whether the required spare parts are available.

If you decide to repair it, you should send us the device (in this case, at your own expense).

Once we have received the equipment, our technicians analyse the cause of the malfunction. You will receive information about the price of the device repair or a message that this kind of service is not cost-effective via your Customer Profile (if you have created an account on our website) or e-mail.

Having received the quotation, you can decide what our service technicians should do: repair the power tool, send it back due to excessive repair costs, or scrap it (the last option being free of charge).

Once the repair is completed, the machine will be returned to the address stated in the application (also at the owner's expense).

You will find all the information about the repair performed on your Customer Profile.

The parts used for the repair are covered by a 3-month warranty.
More than just repair and maintenance of power tools
Rawlplug's Power Tool Service provides more than just warranty power tool repair coverage. Our customers can make use of a wide selection of online and offline training, and if necessary, seek professional help from our Technical Support experts.
Technical Support

– should you have any doubts concerning correct operation of your power tool, if your equipment has broken down or you need to consult with our expert, use Rawlplug's Technical Support services. You can contact us by e-mail or phone. This allows us to pre-determine the potential malfunction, and in many cases, actually help in solving the problem at hand (especially if the device does not work due to improper handling or inadequate accessories). We help our customers to choose the right accessories and spare parts; we advise and support them, so that they can take full advantage of all the features of Rawlplug's power tools.

Rawlplug Academy

– classroom training, webinars, video tutorials, and much more. Rawlplug Academy stands for a broad package of useful guides and instructions, helping you to learn how to make the most of our products in practice.
Learn how to properly clean the R-SC40II and R-WW90II gas-powered nailers at