Quick installation of the R-TFIX-8S-X fixings only with the new setting tool for facade insulation fixings
The new R-TFIX-TOOL-CSMP setting tool is now part of Rawlplug's extensive range of facade thermal insulation fixing products. It will replace the earlier model, introducing innovative features that improve installation quality and make installation work smooth.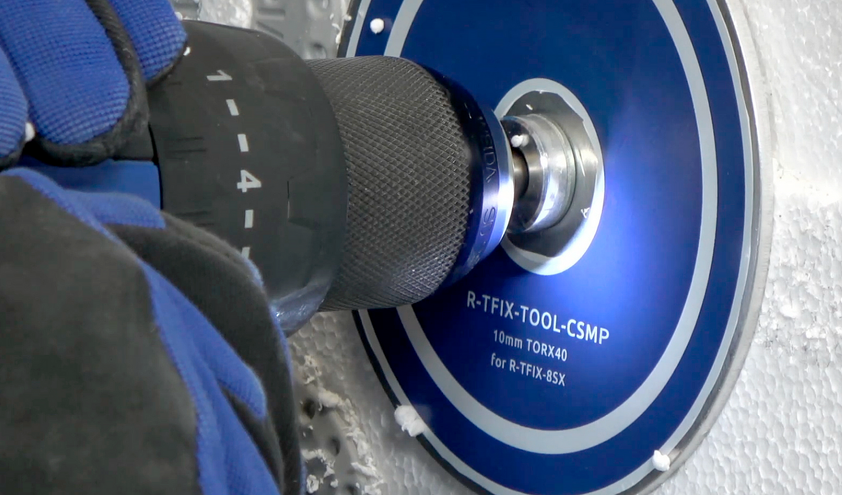 The R-TFIX-TOOL-CSMP is a tool in the form of an installation bit with a perforator, enabling precise and automatic countersunk installation of fixings from the R-TFIX-8S-X family. The tool drives the fixing while simultaneously cutting the thermal insulation material to be installed. This configuration makes it possible to speed up the process of preparing the facade surface for finishing works.
Advantages of the R-TFIX-TOOL-CSMP: what do you gain?
Quick and simple installation of facade thermal insulation with the R-TFIX-8S-X fixings without having to mill the insulation material first.
Eliminating cases of the tool sinking into the insulation material and the fixing being pulled through the insulation, achieved thanks to the retaining plate with an increased diameter of 120 mm. This solution also prevents marks from being left on the insulation.
Easy and stable fixing installation with the TX40 bit, perfectly compatible with the screw socket.
Durable tool with a robust design and the ETA 17/0161 approval.
Installation of the fixing using the new tool, with the additional application of the R-TFIX-CAP63-EPS polystyrene caps or the R-TFIX-CAP63-MW mineral wool caps, makes it possible to reduce point thermal transmittance of the fixings to the minimum.
The new R-TFIX-TOOL-CSMP tool is part of a system of related products that enable comprehensive, simple and professional installation of facade thermal insulation made of different materials and with varying thickness. More information about the whole system coming soon!