It took us several months of design work, multiple tests in real-life conditions, and countless adjustments – altogether, more than three years of development effort, but we have created a product our customers will adore.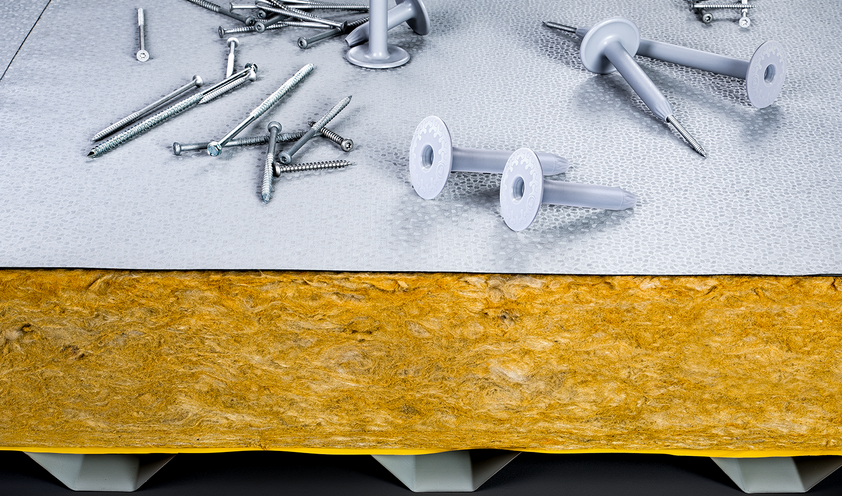 Plastic sleeve – universal flat roof fixing
Plastic sleeves are special-purpose roof fixing accessories intended for the installation of thermal insulation panels on flat roofs. Paired with an appropriate screw matching the base material to be thermally upgraded, the sleeve enables efficient anchoring of thermal and hydro-insulation materials on flat roofs.
New to our offering, the R-GOK-II represents a novel approach to this kind of fixing solutions – technologically refined for unparalleled load capacity as well as fast and efficient installation.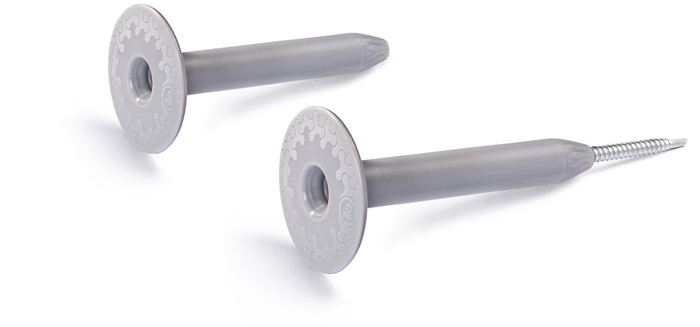 Reasons why the R-GOK-II telescopic sleeve is worth your while
It took us several months of design work, multiple tests in real-life conditions, and countless adjustments – all of that to create a product our customers will adore. The impressive final outcome of the all new flat roof sleeve comes from a blend of its innovative features, unmatched by anything on the market:
Unique lenticular plate design of the plastic sleeve to provide maximised wind resistance of membrane mounting points. The plate cooperates with the membrane to prevent its rupture by wind uplift forces.

Unique lenticular plate design for added 50% of resistance to mechanical cracking, including to pressure and cracking even at very low temperatures, thanks to structurally minimised crack propagation, i.e. damage spreading across the material.

Roof sleeve structure providing firm and stable pressure against the membrane and preventing the plate from going too deep or becoming deformed during and after installation.

Innovative inner locking O-ring to keep the screw in place and prevent it from falling out, while it is pre-assembled with the sleeve for faster work.

Reduced sleeve diameter and sharpened tip for easier membrane penetration and improved installation comfort in dense insulating materials, such as IR/PUR.

Sleeve compatibility with all screws for roofing applications, enabling installation in virtually all substrates.

All features and characteristics engineered to ensure long years of safety of each rooftop.
Watch our video tutorial demonstrating the installation and features of the older R-GOK sleeve version. [wideo]
Pre-assembled R-GOK-II sleeve and screw set
The new sleeve comes in as many as 4 variants – both standalone and pre-assembled with a matching screw to form a complete fixing set that speeds up work and ensures firm installation. The set comprises the sleeve combined with the R-WBT screw for concrete, the
self-drilling screw for steel.

Roofing insulation fixings – expect further new releases soon
We always make sure that Rawlplug's offering is truly comprehensive. To match the new flat roof sleeve, we recommend that our customers use the R-PDS18 cordless screwdriver. And soon, the
Design roof insulation fixings more easily with EasyFix
Did you know that you can easily calculate the number of fixings required for any given roof? The ROOF INSULATION module of our free-of-charge proprietary software EasyFix allows you to design roof insulation fixings for concrete, steel and timber substrates by taking wind load conditions into account.