Excellent technical parameters, simplified purchasing procedure, reduced installation time as well as amount of packaging material – they all represent many faces of sustainability. And what stands at the forefront is the all-in flat roof insulation fixing sets from Rawlplug.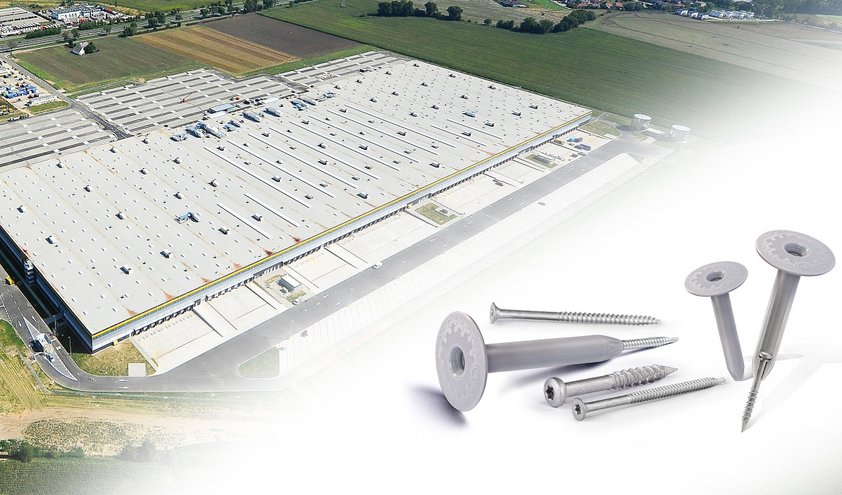 Rawlplug GOK Sleeve Offer
The GOK plastic sleeve and the matching fastener are now both available on our offering in pre-set combos, in variations adapted to different technical conditions. The R-GOK sleeve has been bundled with one of the three screws: R-WX, R-WO, and R-WBT, to form sets intended for concrete, steel decking, and wooden substrates, available in 23 diverse size combinations.
We respond to the needs of our customers
The flat roof insulation fixing system is designed for thermal upgrading of both new and existing roofs. Both thermal insulation material and membrane are fixed to the substrate using telescopic mechanical fasteners, while the last outer layer is a thermally bonded membrane that secures the system against variable atmospheric conditions and mechanical damage. Installation is often conducted under difficult technical and weather conditions, which is the main reason why preliminary customisation of fixing sets makes the installation process significantly easier.
We have extended our offering with the complete flat roof insulation fixing sets in response to the expectations of our customers. The solutions we have designed satisfy most installation-related needs typical of this work field. The pre-setting of the products means less hassle when picking them, and definitely translates into shorter installation times
Paweł Andrasiewicz
Category Manager
In practice, the new pre-set solution brings so much more benefits:
Makes purchasing processes simpler as the solutions are ready-made;
Reduces workmanship costs by shortening the time required to put the sleeve and screw together;
Reduces transport costs, since the sets are packed in one box;
Reduces waste – instead of two boxes, there is one containing compete fixing sets.
The GOK series plastic sleeves are the first choice solution when it comes to roofing insulation fixings. Their supreme technical parameters, anticorrosive properties, and impact strength, all test proven, make them suitable for the most demanding applications, ensuring maximised impact resistance, durability at all temperatures, and fixing stability during many years of service life.
The operating advantages of the GOK sleeves are even more appealing for the simplicity of installation and the wide selection of length variants, enabling optimised choice of a fixing solutions vis-à-vis the insulation material and substrate type. The choice of the sleeve and fastener size can be made even easier if you should use the FLAT ROOF module of our free EasyFix application, running the most complex design calculations involving the application of Rawlplug's products for you. The FLAT ROOF module is intended for designing fixing solutions considering wind forces as well as different substrate types, roof shapes, including slopes and counterslopes, and the insulation material thickness. Another important feature allows the user to define wind zones and land categories based on the enclosed maps of many European countries.